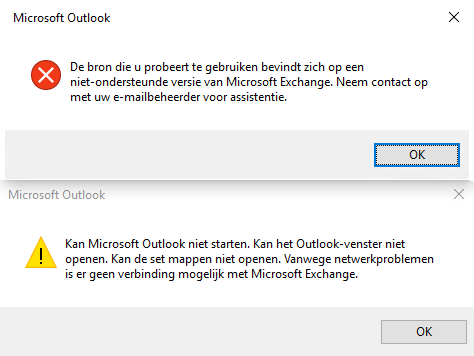 Outlook 2016 refuses to connect to Exchange Server 2007
| | | | | |
| --- | --- | --- | --- | --- |
| Exchange | 2007≈SBS2008 | 2010 | 2013 | 2016 |
| Outlook 2016 | failure | | | |
| Outlook 2013 | | | | unknown |
| Outlook 2010 | | | unknown | unknown |
| Outlook 2007 | | unknown | unknown | unknown |
Due to
an artificial licensing limitation
, Microsoft Outlook ≥ 2016
cannot be used
together with Windows Small Business Server 2008. Unfortunately Microsoft Office 2016 cannot be returned to the point of purchase easily in order to downgrade to Microsoft Outlook 2013, because prior to installation the license key forcefully had to be retrieved from the internet by registering a Microsoft account. On the other hand purchasing the next version of Microsoft Windows Server will cost a lot of money and would probably require replacing all server hardware.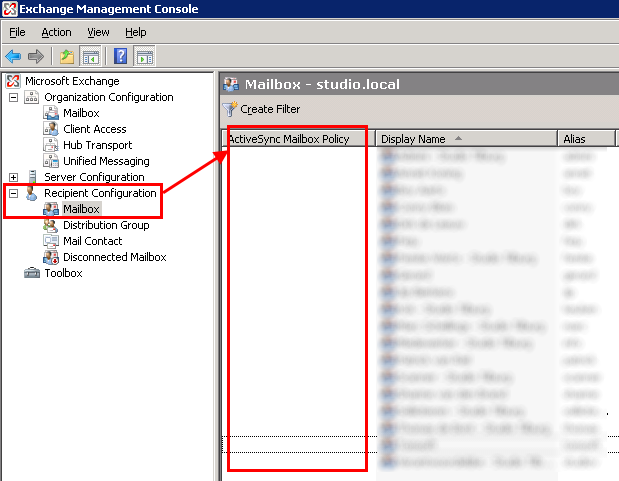 Microsoft tends to enforce full control on all computers and mobile clients wanting to connect to Exchange. This potentially exposes each of such mobile device to being erased remotely by an administrator or a server side virus. On the server there is no setting accessible through the graphical user interface to avoid this. It could be worked around through the shell however, by ensuring there is not any default policy:
Exchange Management Console»Microsoft Exchange»Organization Configuration»Client Access»Exchange ActiveSync Mailbox Policies»New Exchange ActiveSync Mailbox Policy...»"Applied Defaults"»Default=False
Exchange Management Shell»Remove-ActiveSyncMailboxPolicy -Identity Default
Exchange Management Shell»Get-Mailbox -resultsize unlimited | Set-CASMailbox -ActiveSyncMailboxPolicy $null
The installer doesn't contain a user-friendly option to (de)select individual packages (Outlook/Word/Excel/PowerPoint/OneNote/...). There are two workarounds:
This makes downgrading to an older Outlook version very cumbersome.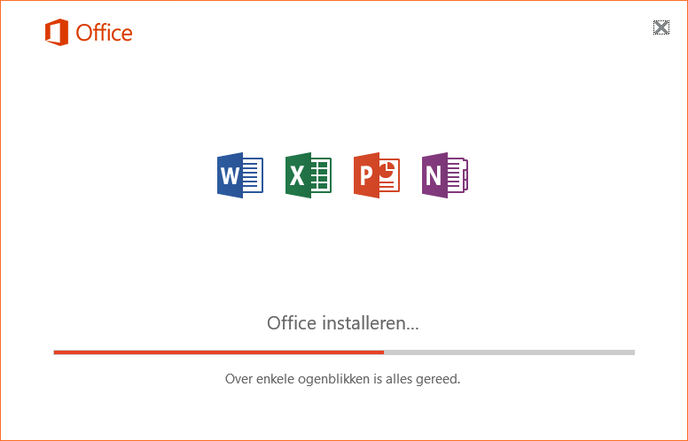 Microsoft Office 2016 installer with Outlook 2016 finally removed (verifiable by logos)