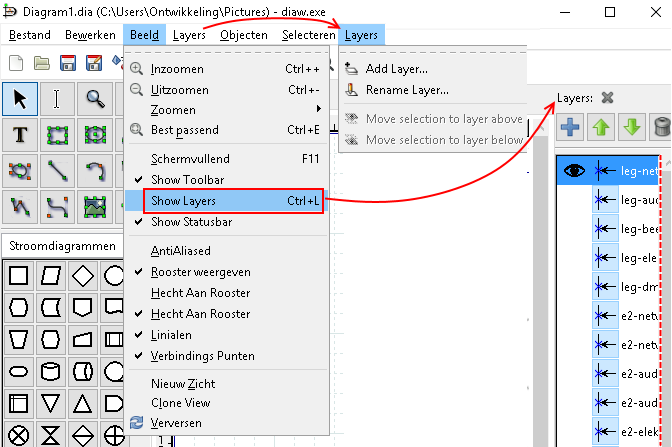 Dia launched with --integrated commandline parameter with truncated layer names
Layers-subwindow can be hard to find because it is in the View menu rather than the Layers menu, it would be best if it would either be in both places or at least would always be in the same place.
If starting with the "--integrated" commandline parameter, the Layers-subwindow is shown using the View>Show Layers menu item, cannot be resized and causes most of the text from the layer's name to be truncated.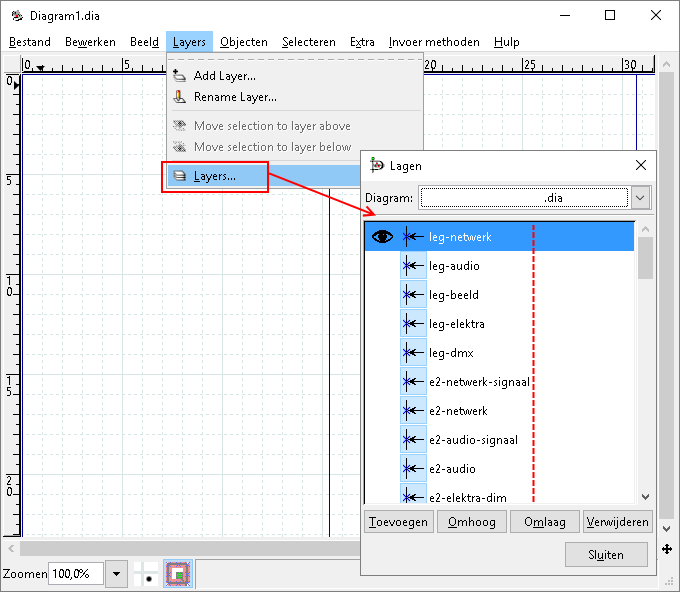 Dia launched without --integrated commandline parameter with repositioned menu item
If starting without the "--integrated" commandline parameter, the Layers-subwindow is shown using the Layers>Layers... menu item, is sizable and the layer names are correctly displayed.
There is no easy switch between the '--integrated' and not '--integrated' layouts.
Varying number of connection points or missing shapes can break .dia-file compatibility
It could be better if:

Dia stores a copy of actual shapes inside a .dia-file,
or looks for modified shapes inside the .dia-file folder (currently shapes from 'Program Files' folder seem to take precedence over local shapes),
or auto-downloads latest shape versions that should take into account backward compatibility,
or automatically recreates missing connection points and placeholder 'dummy' shapes instead of displaying a fatal error message on opening a file.

Sometimes absolute (image) file paths are used rather than relative. This makes shapes and .dia files very unportable throughout computers and makes using custom shapes in a design quite risky.
Some standard shapes don't contain any connection points at all and therefore must be edited prior to first use.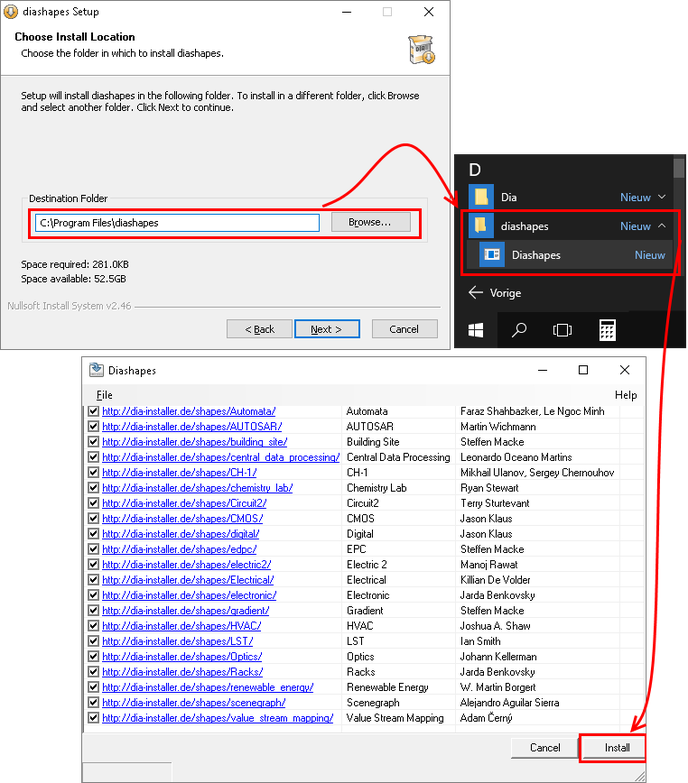 Installing the 'diashapes' package requires two sequential installation procedures
Leftovers from the second install/package manager will needlessly remain in the Start Menu. It would be better if the 'diashapes' package not needs to be installed at all and is integrated right into the Dia application.
Finding specific shapes to use right from the Dia application can be hard, having to browse the shape libraries one by one. The only way to enter a search text seems to be by manually visiting the online search engine. It would be better if a text search box would be integrated in the Dia application itself.
Pro
Dia is a diagram layout software application that runs on Windows and Linux, can use layers and linked shapes and looks to have great potential and seems to provide an almost Microsoft Visio like experience. The downsides I found in the Windows version "dia-setup-0.97.2-2-unsigned.exe" combined with "diashapes-setup-0.3.0.exe" complicate its use a lot however.