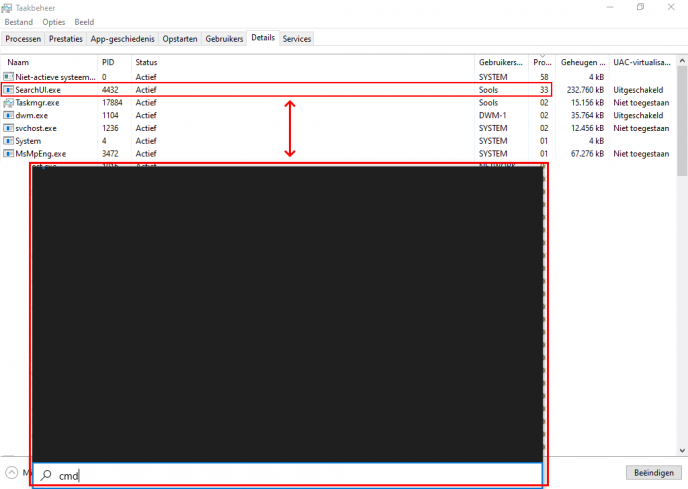 The Windows 10 Start Search box can stop working with Windows Update KB4512941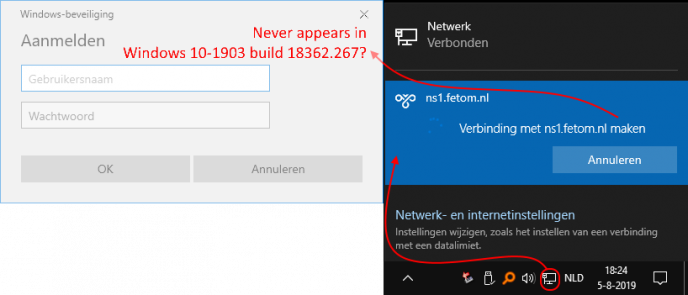 V1903 can break systray VPN-credentials dialog
This makes the VPN-connection process appear to hang on server side forever, even though the problem is completely on the client side (concerning the username and password input user interface dialog). Any of the following workarounds work fine: 1. Connect through 'Control Panel'»'Network & Internet'»'Network Center'»VPN»Connect. 2. Run the legacy application rasphone.exe. 3. Store the credentials inside the VPN-connection settings prior to using the system tray VPN-Connect button.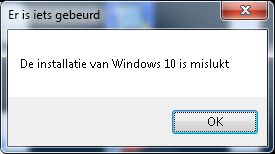 After fresh installation, Windows 10 can show an error dialog right after the first successful boot (on some computers due to unrecognized hardware that got past the (pre-)installation checks).
For various causes, upgrade from Windows 7 to Windows 10 can fail (on some computers and configurations):

Sometimes no clear error message is shown on failure, in that case it could only be figured out by wading through various vaguely explained log files, for example:

\Windows.~BT\Sources\Panther\setuperr.log

Upgrade would be prohibited on 32-bit/64-bit differences and/or different installation languages, requiring cumbersome language pack installations and system setting changes prior to upgrade instead. It would be better if the installer would change the system settings automatically to the required ones, in case that the appropriate language pack is already present on the system.
Could be incredibly slow while Windows 7 wasn't
Due to forced Windows Aero Glass / Desktop Composition being turned on for the desktop and each and every software application, as well as continuous Windows updates, Windows 10 (graphics) could be slow on various older systems, while Windows 7 would run flawlessly with some tuning:
| | | | | |
| --- | --- | --- | --- | --- |
| nearly not fast enough | Intel Core 2 Duo? | Intel Pentium D | Intel Atom | Intel Celeron |
| fast or feasonable | Intel Core 2 Quad | Intel Core i7 | Intel Core i5 | Intel Core i3 |
This could be reason enough to skip the free upgrade from Windows 7»10 on certain PCs.

Dummy files instead of real winhlp32.exe for viewing .hlp Rich-Text-Files (RTF)
(only .chm Compiled-HTML-Help can be viewed standard on Windows 8 and at all on Windows 10)
Lacks widespread Windows features
Windows 10 32 bit and 64 bit void winhlp32.exe applications. Due to the system protected placeholder dummy winhlp32.exe and winhlp32.exe.mui files and lack of an installer, it is very hard to restore these files in their original spots.
Windows 10 64 bit voids 16 bit Windows applications.
Cannot remove existing wifi profile/SSID prior to successful connection, unless using command line 'netsh wlan delete profile <ssid>'. This is very cumbersome when a wifi access point's password changes.
Windows 10 update 1511 build 10586 is not always available for everyone through Windows Update. Despite that, all means of downloading and installing that update by hand are sometimes taken away from users. This could cause the Graphical User Interfaces of multiple systems in a single home being out of sync.
A black screen could appear instead of the login prompt, if the primary monitor is not correctly set. After login this could be easily resolved by pressing Windows-key+P, unfortunately this keyboard combination is not usable prior to login. This leaves the user up to guessing how to perform login blindly.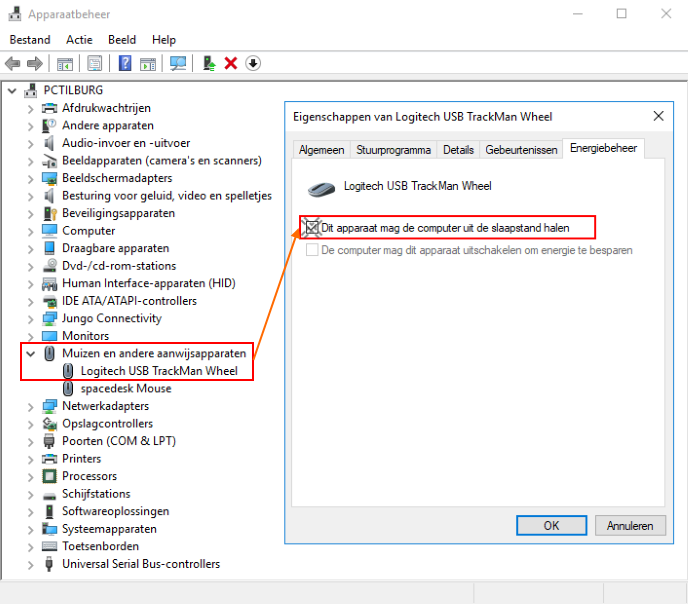 Windows 10 could usually needlessly wake up from tiny mouse movement during standby
(unless disabled by the checkbox in Device Management / in the computer's BIOS-firmware setup)
This could happen due to installing automatic Windows updates, from which the automatic reboot seems not easily disableable. It happened even after a certain 'inactivity timeout period' after selecting "Een andere keer", crashing open
Putty
-SSH-shell-sessions, non-cached
Firefox
-internet-tabs, (safely stored) Notepad-text and a Total Commander
FTPS
-session. This feels like a risky kind of screensaver.
Pro
Windows 10 is a great operating system. Unfortunately its update, upgrade and migration management and hardware support sometimes cause issues, even on decent systems. It drops features that users might be clueless about, being seduced by the free Windows 7»10 upgrade program, effectuating that users still have to buy third-party hardware and software upgrades in the end.