Illustration of drawing glitch on Windows XP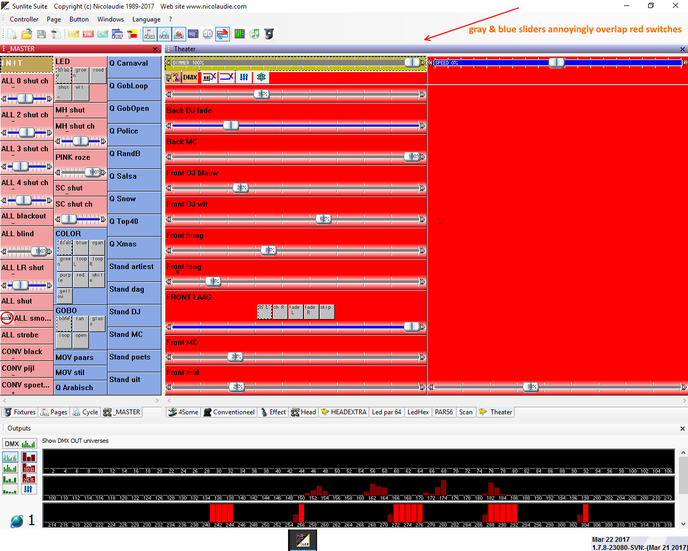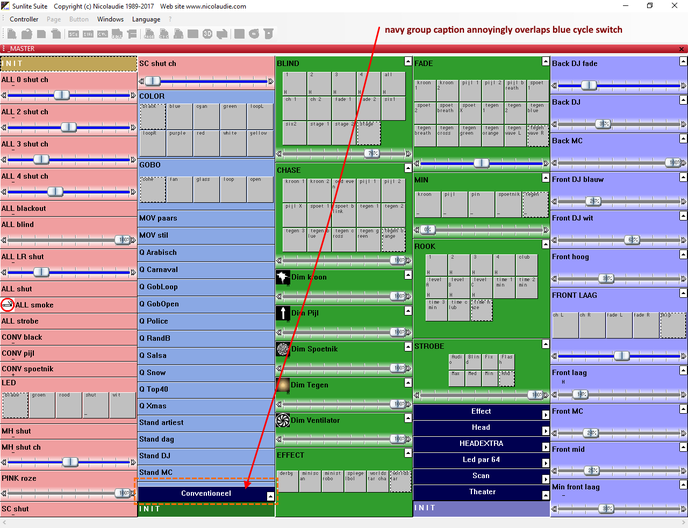 Illustration of two drawing glitches on Windows 10
No auto-enabling ArtNet-out in Beta 02 Sep 2015 & 14 Dec 2018
Years of use can cause corruption to EasyTime/EasyStep data saved in some Switches
It would be much more useful if it would stick to the last channel value like in earlier Sunlite Suite versions. That way the button below each channel could be used as a temporary "lock"-switch.
Cycle Switches can only affect other switch's on/off state but cannot affect other switch's gray intensity sliders or blue speed sliders (unless using Sunlite Suite 2).
Affecting other switch's intensities and speeds would be very useful to let one switch set all the other switches to predefined states at the touch of a single button.
MIDI-console-editor dialog is buggy
If not editing the uppermost entry, the MIDI-console-editor will often not store the changed or new setting.
Pro
Sunlite Suite 1 (≈ Sunlite 2006) is a great lighting tool that sadly contains bugs. It seems however that development has started to focus on Sunlite Suite 2 (and on Sunlite Suite 3). However, Sunlite Suite 2 does not support all the features of the older suite yet and does not provide full migration of the older suite's shows yet.
| | | | | | |
| --- | --- | --- | --- | --- | --- |
| (translucent hardware box color») | (black?) | (orange) | (yellow) | (blue) | (freeware) |
| File extension overview for Sunlite | Suite 3 | Suite 2 | 2006 | 2004 | 2002 |
| Sunlite Show file (all-in-one archive) | | .shw | .ssh | | |
| Sunlite Scan Libary file (fixture definition) | | .ssl2 | .ssl | | |
| Sunlite page exchange (fixture control) | | .pex | .spa | | |
| Console file (MIDI-in) | | .csl2 | .csl | | |
| EasyView stage (3D) | | .evs | .evs | | |
| Effect generator file (FX-engine) | | | .efx | | |